Jin Hi Kim Documentary by CultureHub/SeoulArts/La MaMa 2018
Jin Hi Kim's Digital Buddha at Lower Manhattan Cultural Council
Jin Hi Kim's Exceeding for Electric Komungo at Smithsonian's Freer Gallery
"Promises thoughtful, shimmering East-West amalgams in combinations that are both new and unlikely to be repeated."

–Peter Watrous, The New York Times
"Her unique vision blends science fiction images, state-of-the-art technology, ancient mythology and timeless music and dance traditions. No other artist is doing work quite like this, and she does it with superb style."



–Joseph McLellan, The Washington Post
"This is new music/world music at its finest, beyond political correctness, into the realm of the sublime, where words and cultural postures fall away."

–Josef Woodard, The Los Angeles Times
"With her electric komungo, she floated sustained tones and rudimentary melodies or plucked twangs suggesting a jaw-harp or hinted at the bent notes of the blues."

–Jon Pareles, The New York Times
"A gorgeously tactile piece that moved easily between an earthy folksiness and meditative refinement."



–Allan Kozinn, The New York Times
"The delicacy of her effects (and of the Kronos Quartet's playing) were constantly riveting."



–John Rockwell, The New York Times
"An essay in integration which suggested a Takemitsu-like ability to hover between eastern and western traditions."



–Paul Griffiths, The Times (London)
"Jin Hi Kim, between Bach and Buddha"

–Fredi Bosshard, Die WochenZeitung (Zurich, Switzerland)
"In the mysterious ritual Jin Hi Kim on the komungo, the meditative song of a music unfolded, which is fed spiritual sources that are still inaccessible to the Western."

–Bernd Feuchtner, Schwabische Zeitung (Munich, Germany)
"She performs brilliantly and evocatively on an amplified komungo."



–Joseph McLellan, The Washington Post
"She draws rich expressive and subtly individual, new sound orache, …very original, exciting, meditative and above all foreign."



–Otmar Klammer, Jazzkeller (Nickelsdorf, Germany)
"With Jin Hi Kim's richly nuanced and emotionally charged way of playing, the result was extremely lively, multifaceted music, which drew its soulful tension from the intense fusion of western and eastern sounds"



–Raimund Kast, Schwabische Zeitung (Ravensburg, Germany)
"Moved through the orchestra like a curious outsider, wondering at the range of sounds it can make and using it as an extension of twangy vocabulary of solo komungo."



–Anne Midgette, The New York Times
"Some of the orchestral writing sounds like movie music, but the way that Kim extends the effect of the drums by additional percussionists ringed around the stage is striking."



–Richard Dyer, The Boston Globe
"Cut across barriers of language, culture and tradition, touch us at deep, irrational levels result in a work that speaks to our common humanity."



–Joseph McLellan, The Washington Post
"The most exciting of the instrumental imports (to orchestra) was the set of barrel drums used by Jin Hi Kim in her own vibrant composition, "Monk Dance" ....her propulsive solos on drums took over, leaving the audience breathless."



–David Baker, New Haven Register



Jin Hi Kim, electric komungo | MBC-National TV, S. Korea






Jin Hi Kim is on PRI's The World




Jin Hi Kim discusses her work on the Interpretations Series, New York


Electric Komungo Demo
Live Streaming from CultureHub, La MaMa Theater (NYC) to Seoul Arts



TOUCHING THE MOONS - a multimedia lunar ritual at The Kitchen, New York




DRAGON BOND RITE - Pan-Asian Mask Dance and Music Performance at Japan Society, New York




ASIAN SOUND REVOLUTION - Jin Hi Kim and Min Xiao-Fen at Yale University




REPULSIVE TREE - Jin Hi Kim, Oliver Lake and Samir Chatterjee at Roulette, New York




GHOST KOMUNGOBOT Lab - CultureHub, La MaMa, New York




CHILD OF WAR- dedicated to "the girl in the picture" at Quick Center, CT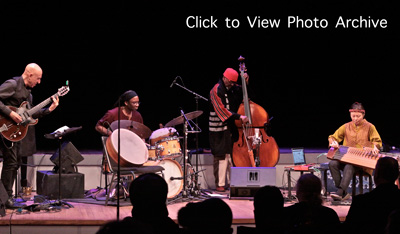 Jin Hi Kim, Elliott Sharp, Hamid Drake, William Parker at Roulette 2018
© Maurice D. Robertson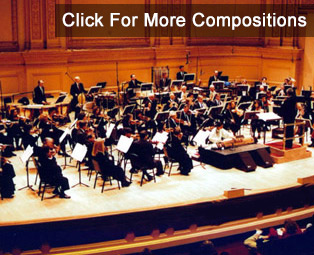 Jin Hi Kim's Eternal Rock for American Composers Orchestra at Carnegie Hall (2001), conducted by Dante Anzolini, Jin Hi Kim komungo soloist
News Highlights
Jin Hi Kim's Living Tones at Wesleyan University in celebration of the Music Library's Acquisition of Kim's Living Tones scores. February.1. 2020.

More Info
Jin Hi Kim's Asian Sound Revolution, in collaboration with musicians from Korea, Japan, China, Vietnam, India, and The Philippines, presented at the Detroit Institute of Arts for celebrating the opening new Asian Galleries 2018.

More Info
Jin Hi Kim was awarded from the College of the Environment, Wesleyan University for her Sound Calendar of the Year 2018 project.

More Info
World Premiere of Jin Hi Kim's One Sky II for Orchestra, dedicated to the unification of Korea, was sponsored by Wesleyan University Allbritton Center for the Study of Public Life Collaborative Project and performed by Wesleyan University Orchestra conducted by Nadya Potemkina, at Crowell Concert Hall, April 16, 2018.

More Info
Jin Hi Kim was awarded for a 2017 Fulbright Specialist Grant. Kim was invited by Hue Monuments Conservation Centre and The Center for Research, Preservation and Promotion of the Traditional Music in Hanoi in Vietnam.

More Info

-

Phunu Vietnam Review
ISIM 10th Anniversary: Jin Hi Kim, Artistic Director, Cross-cultural Improvisation Workshop and Performance at Jeonju International Sori Festival 2016, South Korea.

More Info
Ghost Komungobot, a 60 minutes interdisciplinary live interactive performance of electric komungo and komungobot (virtual robotic instrument) with visual media design. The work was co-produced by CultureHub, the Art & Technology Center at La MaMa and Harvestworks Digital Media Arts Center, NYC for REFEST 2015 and at Bandung International Digital Art Festival 2016, Indonesia.

Watch Video

-

More Info
Jin Hi Kim is awarded 2015 Composers Now Creative Residencies at the Pocantico Center of Rockefeller Brothers Fund.

More Info
In celebration of Music From Japan's 40th anniversary, Jin Hi Kim was featured along with Mayumi Miyata (sho) and Wu Man (pipa) for East Asian Vibrancy program in February and March 2015. Asia Society (New York), Smithsonian Freer Gallery (Washington DC), Fukushima City Concert Hall and Tokyo Bunka Kaikan in Japan.

More Info /

The New York Times Review
Kim has been designated as 2014 Asian Cultural Council Mandarin Oriental Fellow, and performed at four International Festivals in Indonesia.

Photo

-

Watch Video
Jin Hi Kim's Child of War, dedicated to Kim Phuc who is renowned for "the girl in the picture" during the Vietnam War, commissioned by John Marshall Lee was world premiered by The Mendelssohn Choir of CT conducted by Carole Ann Maxwell at Quick Center, Fairfield University (April 2014).

CT Post

-

Watch Video
In conjunction with Metropolitan Museum's 2014 Exhibition Silla: Korea's Golden Kingdom, Kim performed with Gerry Hemingway her widely acclaimed Digital Buddha, a 60 minutes multimedia performance. The work has been presented at Festival Dos Abarazos (Santiago de Compostela), Expo Zaragoza (Spain), Festival Salihara (Indonesia), Bandung International Digital Art Festival (Indonesia), Expo Cibao (Dominican Republic) and Korea Festival. Tempo (Jakarta) Review Free Jazz Review - Watch Video
Kim's Crosscultural Music Meditation Workshop has been sponsored by McKnight Visiting Composer Fellowship with the American Composers Forum, Arts Catalyze Placemaking Fund from Connecticut Office of Arts, and Music Alive Composer in Residence.

Watch Video
Kim performed with Cosmic Ensemble at Venice Biennale 2013 for Portuguese artist Joana Vasconcelos Floating Pavilion Opening Exhibition. Read More
Kim premiered and performed her Tilings with Either/Or ensemble at The Kitchen, New York (May 2013). The New York Times Review
Kim performed Asian Sound Revolution with Min Xiao-Fen at Yale University, University of Chicago, Cornell University, and Museum of Chinese in America (NYC). Watch Video - Read More
Jin Hi Kim featured on Voice of America: Ancient Sound Reimagined for Modern Times. Voice of America
Kim featured on PRI's The World: presenting two works, Eternal Rock and Digital Buddha at Stanford Pan-Asian Music Festival 2012. She was soloist for Eternal Rock with Stanford Philharmonia Orchestra conducted by Jindong Cai. PRI's The World - Global Hit Interview
Kim participated in a New York Philharmonic Credit Suisse Very Young Composers project in collaboration with Korea Arts and Culture Education Service.
Kim performed as soloist for her composition Monk Dance (for orchestra and Korean barrel drums) with Empire State Youth Orchestra, New Haven Symphony, Stanford Symphony and South Florida Symphony. New Haven Register Review
Jin Hi Kim was awarded Guggenheim Fellowship 2010 for Music Composition.
Kim was Music Alive Composer-in- Residence (2009-2011) with New Haven Symphony Orchestra. Read More
In S. Korea, interviews about Kim's electric komungo were featured on Arirang TV -Global Broadcasting <Heart To Heart> in 2008, and MBC-TV < Exclamation!> in 2007.
Kim's electric komungo solo performance was broadcast by YTN National TV for the Korean Artists Overseas Festival 2006 in Seoul.

Watch Video
In three decades Kim has performed in a free improvisation context at many international festivals with prominent Western avant-garde improvisers. Read More - Watch Video
Kim's autobiography Komungo Tango, a 25 years journey of creative collaborations with master musicians around the world, was published in 2007, Seoul, S. Korea. Read More
In 2007 Kim composed the sound track Koryo Saram (directed by David Chung), an hour long documentary film about Korean refugees from Russia to Kazakhstan.
Read More
In 2006, Kim's Eternal Rock II for Orchestra and Korean Barrel Drums was commissioned and premiered by Boston Modern Orchestra Project conducted by Gil Rose.
The Boston Globe Review
In 2005 Kim was featured on BBC The World/Global Hit radio program for her One Sky for string chamber orchestra and electric komungo, which was commissioned (by the Great Mountain Music Festival) for the memorial event held at DMZ between North and South Korea for commemorating the Korean war, and was broadcast on KBS-TV in S. Korea.

BBC Global Hit
Kim was Freeman Artist-In-Residence at Cornell University in 2004.
Kim's Nong Rock for String Quartet (with Kairos Quartet) and Komungo and Self Portrait for komungo solo were performed at Haus Der Kulturen Der Welt (Berlin) for Transonic Festival 2004. Read More - Listen
Following Jin Hi Kim's appearance in the national MBC-TV broadcast of the film <100 Years of Sanjo>, a 90 minutes Sanjo Ecstasy was premiered at the Sanjo Festival in Korea in 2003. Read More - Watch Video
In 2001 Korean National Broadcasting System (KBS-TV) produced an hour documentary film <Hanminjok Report> on Jin Hi Kim's musical contribution.
Kim was awarded the 2000-2001 American Composers Orchestra Composer Fellowship, and her commissioned Eternal Rock for Orchestra and Komungo was premiered at Carnegie Hall. Subsequently it was performed by Riverside Philharmonic, Boston Modern Orchestra Project, Stanford Symphony, KBS Symphony, Seattle Creative Symphony, and South Florida Symphony. The New York Times Review
In 2000 Kim's Dong Dong Touching The Moons, a 70 minutes multi-media lunar ritual, won the Wolff Ebermann Prize for at International Theater Institute Conference in Munich, Germany. The work commisioned by The Kitchen (New York) was presented at MassMOCA, the Kitchen and the Kennedy Center (Washington DC). The Washington Post Review -

Watch Video
Kim was featured composer for the Festival Nieuwe Muziek 1998 and Agate Slice was commissioned for Xenakis Ensemble (The Netherlands).
Kim's widely acclaimed 90 minutes long cross-cultural mask dance drama, Dragon Bond Rite (1997), featured musicians and dancers from India, Indonesia, Korea, Japan, Tuva and the U.S., and was commissioned by the Japan Society through funds from Mary Flagler Cary Charitable Trust and the Rockefeller Foundation Multi Arts Production Fund, and presented at the Walker Art Center (Minneapolis), the Kennedy Center (Washington, DC) and the Festival of Asian Art in Hong Kong. The Washington Post Review - Watch Video
Kim was Composer in Residence and International Conference Residence at the Rockefeller Foundation Bellagio Center, Italy in 1996.
Kim's Voices of Sigimse was premiered by Chamber Music Society of Lincoln Center at the Lincoln Center Summer Festival 1996 with Kim as soloist and Tan Dun conducting. The New York Times Review
Kim's Nong Rock for String Quartet and Komungo was commissioned by the Kronos and premiered at Alice Tully Hall, Lincoln Center in 1992. Los Angeles Times Review - Listen
In 1989 Kim was invited to the Composer-to-Composer Telluride Residency with John Cage and other leading composers.

Photo
In 1986 Kim was commissioned by the Kronos Quarter for her work Linking. The Times (London) Review