Enlisting Ears: Introducing the Sound Calendar of the Year 2018

by Harrison Nir

Harrison Nir is a student composer and writer, pursuing a double degree in Music and Anthropology at Wesleyan University in Middletown, Connecticut. He was awarded from the College of the Environment for the Sound Calendar of the Year 2018 Summer Internship.
One major, though seldom recognized part of being human and alive is making sound. Everywhere we go, from the moment we are born, we are creating vibrations in the air around us. These vibrations are summed into a web of sound comprised of everything we can and much that we cannot hear, all together composing the sonic ecosystems of the Earth.
In the time of global climate change, there is an urgency to seed resources that aid mass environmental awareness. The Sound Calendar of the Year 2018 is a pilot project that responds to this urgency through the creation of an expansive, community-sourced environmental audio collection. Developed by Guggenheim fellow composer/Adjunct Assistant Professor of Music Jin Hi Kim, the calendar will map a single year on Earth in sound on a digital platform made to facilitate an annual project of communal reflection. Throughout 2018, the project is calling for 5-10 minute unedited, unique recordings of environments from all over the world. Everything from smartphone to professional grade environmental recordings will be included.
It took me 21 years, until my first trip to Joshua Tree National Park to truly realize the impact of the sound we create: from music to noise, every sound is a cause and so, naturally linked to an effect. Think about it, on a human level, how music can instantly alter your mood and cause you to move or react in a particular way, with more or less grace; or, for example, how the sirens of an ambulance provoke a fearful empathy and move traffic aside. Every sound we make and every sound we hear has an effect on our environment.
Exploring the desert plains of Joshua Tree intent on recording, where, unbenounced to me, the summer days are as silent as they are hot and each step taken on the brittle Earth resounds fifty feet in each direction, I became acutely aware of the sound of my presence. As I hiked, I stirred jackrabbits up from their shaded dens and sent them running across the plain and the few gathering birds, whose calls became my compass, fell silent, leaving me to only the hush of the wind pressing through the armored fronds of the joshua trees.
To a practiced ear, the sonic ecosystem is coded with information about the health of our environment. Long before climate change became a visible and visceral phenomena on Earth, it was audible. Rachel Carson famously turned her experience of the Earth's changing soundscape into a call for action in Silent Spring, published in 1962, inspired by a perceived decrease in bird song. Over 60 years later, it is impossible for us to understand the sonic world that inspired Carson to write, the same that helped develop the Western environmental movement. What we can do now, in an effort to become more aware participants in and more involved stewards of our ecological communities is develop our ability to listen.
There is a certain harmony in the dissonance of the Earth's changing soundscapes, change is happening everywhere. The ability to sensitively witness these changes is directly related to the work that must be done to preserve a diversity of species and ecosystems on the Earth. This is the intention behind the Sound Calendar of the Year: to cultivate a community of inspired listeners. From the silence of Joshua Tree to the wild, hollering savannahs of Uganda, to a car chorus at rush hour, the more sonic perspective that we can gather into the Sound Calendar each year, the better we can witness the Earth change. And the first step towards healing ourselves through healing our relationship with this planet is to listen and to trace the sounds we hear back to their cause.
To read more, submit your recordings and get involved in the project click here
Sonic Experiences in New York City

by Marc Esposito

I'm a psychology (BA/MA) and SISP major at Wesleyan, although this year I'm taking time off to live and work in New York City. My main academic focus is ecological-community psychology with a special interest in acoustic ecology: how sound, people, and nature interact in a given space. I'm compelled by how sound can be used as an activating force for social change. I hope to design technology for people to connect to the environment – and each other – through listening and sharing their unique perspectives. I believe our perception of sound powerfully grounds us to our socially-constructed realities and shapes our interior/exterior worlds, alongside the rest of the natural world. My personal music taste is mostly synthetic and electronic, so I find it grounding to bring an open awareness to the sounds around me, especially in a city environment as exciting as New York!
| | |
| --- | --- |
| Standing on the suspended M subway station platform in the late morning, I listened to these construction workers shatter cement with industrial drills. I was surrounded by a crowd of people waiting for the subway. No-one seemed to pay attention to this clearly loud noise... were they not disturbed? Have these industrial sounds become accepted in society? And would that be good or bad? | |


This is Maria Hernandez park in Bushwick, Brooklyn, on a Sunday afternoon. I was amazed by the shear activity and collective sound of a shared urban recreational space, and how different people, like kids, would experience the same place individually. The energy there was incredible as new sounds would uniquely emerge and mesh together, like a soccer game, children playing, skateboarders, and conversations between friends. I sat in the center of this park to explore the different dimensions of this soundscape.



The recording was made more meaningful with an article I read this week about how noise is shaping marginalized communities. Bushwick is a historically marginalized and dangerous community, and this park was named after a community activist who evicted drug dealers from the neighborhood. Now, from my perspective as a newcomer to the community, the area is "cleaned up" and children can be heard playing in this recreational space. I found it humbling how my perspective on the sound/noise of this community – and the perspective of newcomers like me – are actively shaping the space where people have lived for generations. It's important to recognize that sound is political by respecting shared space and sound, everyone can be heard and honored. Just listening and acknowledging where we are is an important step towards healing harmful inequalities in our society.
This selection is part of my daily commute home and a frequent path to Brooklyn. I usually listen to techno at this time, but today I 'plugged in' to the soundscape around me. Using the same technology (i.e. my smartphone and headset) to disconnect into my own world, I instead recorded the environment and was rewarded by what I heard! You can hear the clatter of my keys as I walk underground from the 1 train to the L train at 14th Street – where I just missed the subway! I caught the next one and listened around in the meantime... Some recording distortion reflects the chaos of the commute.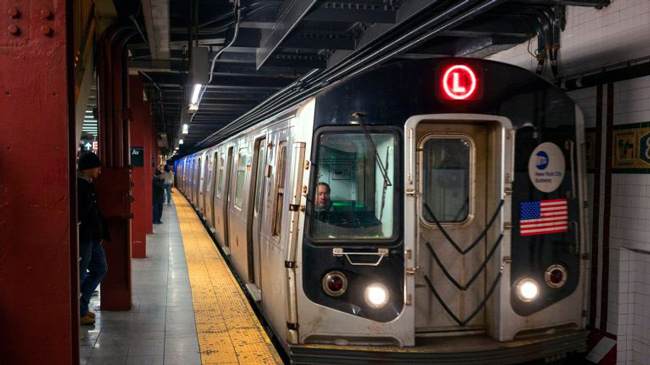 Subways are fascinating. They create networks of life underground and allow for a flow across dense built environments. There's something almost alien about these spaces when we realize how people are zooming through the Earth's crust. While the MTA is antiquated and doesn't come without its problems, especially on the L subway line, it never ceases to entertain me. I've come to appreciate these problems as facts of my commute through tuning into my environment. For example, this deficient light bulb releasing a bizarre zapping noise in a cold subway station in deep Brooklyn. I only heard this after missing my subway stop, but was delighted to discover this extraterrestrial-like electronic sound, reminding me of the inherent absurdity of moving through this city.